OUR PEOPLE
MAZE Wines, represents the culmination of many years spent appreciating fine wines, and the opportunity presented when wine enthusiasts come together to embark upon a project to produce infinitely well crafted wines.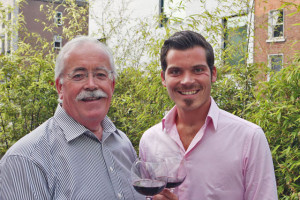 GERRY MCSHARRY developed a love of wine, and especially fine wine, through a lifetime working in Media. Having built his Media Buying business in Ireland into the market leader, he looked for a greater challenge, and where better than in London, England. Taking over a small but well respected media Company in the UK, Gerry spent the next 15 years turning it into the world's leading Out of Home Media buying company, with offices in fifteen countries worldwide. Along the way Gerry found that much of his time was devoted to meeting and entertaining new and existing clients, and he became a regular visitor to many of London and the world's finest restaurants, where his passion for fine wines was matured.
It was a very easy decision to join with his son Paul in his wish to make fine, hand crafted wines in California. The dream took substance when Mark Herold, the celebrated winemaker, agreed to be wine consultant to the fledgling venture. Mark Herold, who co-founded Merus in 1998, quickly became one of Napa Valley's rising stars among Cabernet producers. The eight released vintages of Merus all scored in the outstanding or classic ranges.
With Mark's extraordinary skills and knowledge, allied to Gerry's years of hands on company management, and working alongside a distinguished team of support staff, the possibility to produce exceptional wines became a reality, and that reality is, MAZE Wines.